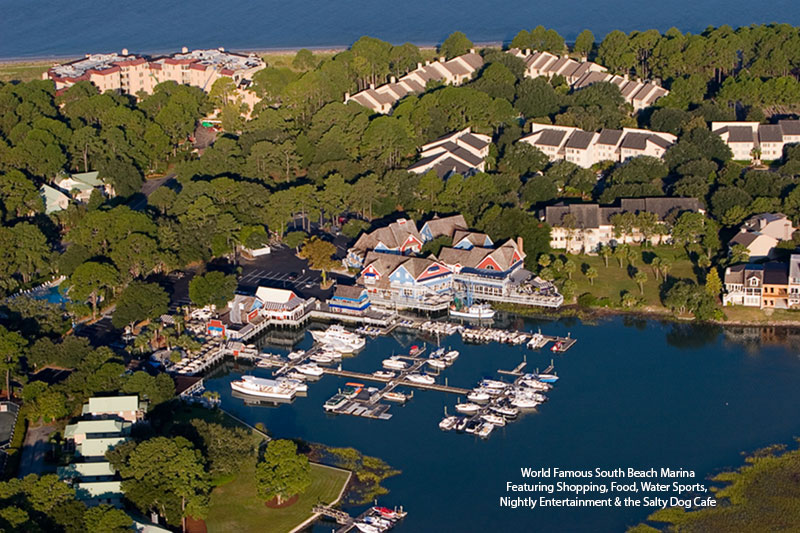 For more than 50 years, Sea Pines has been the premier planned community on Hilton Head Island, South Carolina. The man originally behind Sea Pines, Charles Fraser, is said to have invented and revolutionized the modern American resort. It is renowned not only for its excellent resort accommodations, world-class golf and tennis facilities, and family-friendly vacation experiences, but also for its dedication to the preservation of the surrounding ecology. Sea Pines has set the standard for luxury resorts in America, and will continue to do so for years to come.
Accommodations
When choosing a Sea Pines rental property, there are a few things to consider.
Oceanfront Sea Pines rentals - properties directly on and facing the beach, these vacation rentals will have their own private beachwalk.
Oceanside Sea Pines rentals - shared beachwalks to the beach, and usually listed by Row. For example, 2nd Row rental homes are directly behind Oceanfront homes, and a 3rd row rental will be the third house from the ocean. An "oceanside" vacation rental at Sea Pines is not only close to the beach, but there are no streets or busy roads to cross.
Ocean-oriented Sea Pines rentals - still a half mile to 1 mile from the beach but may require crossing a road or street in route to the beach.
View Our Sea Pines Vacation Rentals
Some guests prefer Sea Pines villa and condiminium rentals because they can rent oceanfront or very close to the beach, for a much lower price than a home with similar proximity to the beach. Our Sea Pines villas, condos and townhomes include gorgeous 1-2 bedroom Beachfront properties in Beachside Tennis, 3-4 bedroom Oceanfront and Oceanside properties in Turtle Lane Club, 2-3 bedroom Sound Front properties in South Beach Club, 4-bedroom Sound Front properties in Sound Villas and 3, 4 & 5 bedroom Waterfront and Sound Front properties in Lands End.
Our Sea Pines rentals are all furnished, with kitchens, and have fresh linens for your arrival. During the summer, rental stays are from Saturday to Saturday. Families can find comfort in a private rental home or villa, instead of multiple hotel rooms. Our vacation rental homes, condominiums, and villas are close to many things to do in Hilton Head. We offer Sea Pines rentals ranging from one to seven bedrooms. Find the perfect rental for you and your family whether it is oceanfront or ocean-oriented on the Atlantic Ocean or beachfront facing the Calibogue Sound in Sea Pines.
Geography
Hilton Head Island is only 45 miles from Savannah, Georgia. Sea Pines Resort is located on the southern tip of the Island; the resort spans 5,000 oceanfront acres and occupies a full third of the Island. Of these, 1,300 acres of Sea Pines are devoted to parks, forests, and other natural beauties. Sea Pines features five miles of pristine beaches, and over twenty miles of bike paths and nature trails. Sea Pines Resort is readily accessible by two airports- Hilton Head regional, and Savannah international.
Ecology
Sea Pines Resort set precedence by being the first resort to be developed with the ecosytem in mind. Sea Pines was designed to have minimal impact on the surrounding wilderness and wildlife to preserve the natural beauty of Hilton Head Island for its visitors. The resort features a 605-acre forest preserve as well as 700 additional acres of parks, marshes, maritime forests and other natural reserves. All of the buildings and signs at the Sea Pines Resort are designed to blend in with the natural habitat surrounding them; no building is higher than the tallest trees on the resort.
Attractions and Services
GOLF
The Sea Pines Resort complex features a total of four golf courses- three public, and one private. Sea Pines prides itself on its award-winning golf courses- Harbor Town Golf Links was voted the #1 golf course in South Carolina, as well as one of the top twenty courses in the country by both Golf Digest and Golf weekly. It has also been the site of the PGA's annual RBC Heritage Tournament since 1969, and the Harbour Town Clubhouse was completely redesigned and rebuilt in 2015. The Golf Club in Sea Pines offers Heron Pointe, constructed by the legendary course architect Pete Dye, and the Atlantic Dunes Course, designed by Davis Love III in 2016.  Both are Island favorites that are as scenic as they are challenging.
TENNIS
Sea Pines Resort has long been considered to have some of the best tennis facilities in the country. The Sea Pines racquet club, run by former U.S. Open and Wimbledon champion Stan Smith, features 23 clay courts, an 1,800 seat stadium court, and a full-service pro shop. The Sea Pines racquet club runs a full schedule of round robins, mixers, and open court times to ensure that the tennis enthusiast is fully satisfied. Tennis players can hone their skills with programs offered by USPTA-certified professional instructors.
NATURE
The natural beauty of Hilton Head Island is arguably one of the largest draws of The Sea Pines Resort. The resort works to maintain the delicate balance between Sea Pines' inhabitants and the surrounding environment. Opportunities to discover and explore the wilderness, and interact with the wildlife are plentiful. Sea Pines' EcoTours include beach walks, hay rides, bike tours, kayak excursions, stargazing, and much more. During the loggerhead turtle search, guests can learn about the endangered Loggerhead Sea Turtle, their habits, and ongoing preservation efforts. The Audubon bird sanctuary on the Island includes more than 350 different species of birds and is another valued attraction the Sea Pines Resort offers. Other known wildlife on and around the Island include deer, alligators, sea turtles and dolphins.
DINING
The resort grounds have more than 20 different restaurants and eateries, offering a wide range of cuisine. Dining options range from higher-end restaurants, such as the Harbor Town Grill, which overlooks the 9th hole of the famous Harbor Town Golf Links course, to bakeries, cafes, bars and ice cream shops.
SHOPPING
Harbour Town, Sea Pines Center, and South Beach Marina offer restaurants and boutiques, specialty shops, and art galleries featuring classical paintings and Island-themed crafts. 
YOUTH ACTIVITIES
Youth activities at Sea Pines are available for kids of all ages. The Fun for Kids! Summer day camp gives kids ages 4-12 the opportunity to have fun with swimming, bowling, arts and crafts, dolphin discovery cruises, and much more. Teens can enjoy the Dive-In movie at the Harbor Town Pool, or explore the Island's marshlands with Kayak Discovery. Families can take part in any of the plentiful Family Fun activities, including sand-dollar painting, hemp crafts, scrap booking, and many more exciting activities that the entire family can enjoy.
DIRECTIONS - BY AIR
Car rentals and shuttles are available at both airports that serve Hilton Head. Sea Pines resort is 45 minutes from Savannah / Hilton Head International airport, and 15 minutes from Hilton Head regional.
DIRECTIONS - BY CAR
From I-95 take exit 8, and follow Highway 278 East for 20 miles to reach Hilton Head Island. Once on the Island, take the Cross Island Parkway to the traffic circle, and turn onto Greenwood drive. You will then enter Sea Pines through the main Sea Pines guard gate by using your guest pass.
RESORT RULES AND REGULATIONS
Sea Pines is a gated community with rules and regulations that must be followed.  Gated communities do not allow commercial decals/wraps on vehicles, motorcycles, motorized or electric bicycles, scooters or skateboards of any kind, Recreation Vehicles (RVs), motorhomes, trailers, campers, boats or jet skis.  Vehicles must be parked on driveways or inside garage/carport and bicycles must be parked in orderly condition on premises of rental property.  Bathing suits, beach towels and beach gear cannot be hung on railings or displayed anywhere visible to neighbors or the general public.  Pets must be leashed anytime they are not on private residential property.  Noise is limited between the hours of 10:00 pm to 7:00 am.  Failure to abide by resort rules and regulations can result in citations with fines, and unruly or disruptive behavior at any time can terminate the rental agreement that you have with Destination Vacation and result in immediate eviction from rental property.  For a full list of Resort Rules and Regulations, please contact Destination Vacation.